See The World, Unframed
Whether you love your glasses frames but need contact lenses from time to time, or you want to wear them every day, Milano Optics is here to help you achieve your best vision possible.
We offer vision testing for contact lens wearers and a huge selection of contact lenses to help you see your best.
Get started today by scheduling an appointment with our team.
Vision Testing for Contact Lens Wear
Our vision tests, performed by a licensed optician, help determine how well you see and what corrective lenses may be best for you.
Our thorough contact lens vision tests your visual acuity and refractive error to determine what contact lens prescription you may need. We will also assess the health of your eyes to determine if you can safely wear contact lenses.
From there, we begin our fitting process. We will recommend the best prescription contact lenses for your eyes and vision, and you can check to see if they feel comfortable. If your vision isn't as clear as you'd like, or you're not finding comfort in your lenses, we can try another type.
After you've tried out the contact lenses, you will return to our office for a checkup to ensure they are comfortable and working well for you.
We provide contact lens vision testing for adults from ages 19–64. For anyone younger, older, or requiring special examination, please see your doctor for a prescription. We welcome you back to Milano Optics with your valid prescription to shop our selection of glasses, sunglasses, and contact lenses!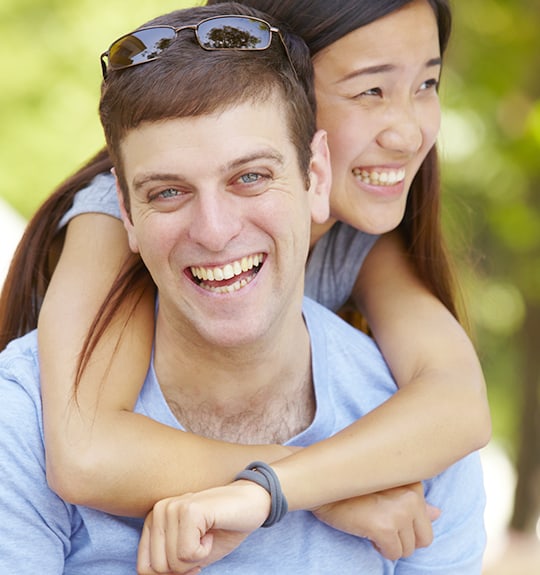 There are many different types of contact lenses available! Our experienced contact lens fitter can talk to you about your lifestyle, how long you plan to wear contacts each day, and your vision goals. All of these factors, along with an eye health assessment, can help determine what type of contact lenses may be best suited for you and your eyes.
We dispense daily, biweekly, and monthly contact lenses in single-vision, multifocal, spheric, or astigmatic varieties to help you achieve the clearest vision possible.
Daily & Extended-Wear Lenses
Daily contact lenses are an excellent option for someone looking for the most comfort possible, with the ease of discarding the lenses at the end of each day. When you wake up, you open a new package of lenses to wear for the day. No rinsing or storing overnight is needed.
Biweekly lenses last for 14 days. At night, you store them in a solution and container and use them again the next day. These lenses are considered a happy-medium for comfort and ease of use.
Monthly contact lenses are similar to biweekly lenses, except you replace them after 30 days.
Soft & RGP Contacts
Contact lenses come in a variety of materials to choose from. The 2 most popular types are:
Soft contacts—made of soft plastic polymers that are very flexible and form to the front of the eye. They are often easiest to adjust to.
Rigid gas-permeable contacts—made of oxygen-permeable harder plastic. These contacts hold their shape and provide crisp, clear vision. They may take longer to adjust to than soft contact lenses.
See Comfortably & Clearly with Contacts
Your contact lenses should allow you to see the world comfortably and clearly. Visit Milano Optics for a contact lens vision test, fitting, and all of your favourite brands of contact lenses.
Our Location
Milano Optics is located in the heart of New Westminster. Find us on 6 Street in between Blackford Street and 3rd Avenue.

Our Address
306 6 St.

New Westminster

,

BC

V3L 0C9
Hours of Operation
Monday

:

9:00 AM

–

6:00 PM

Tuesday

:

9:00 AM

–

6:00 PM

Wednesday

:

9:00 AM

–

6:00 PM

Thursday

:

9:00 AM

–

6:00 PM

Friday

:

9:00 AM

–

6:00 PM

Saturday

:

10:00 AM

–

6:00 PM

Sunday

:

10:00 AM

–

6:00 PM
Book Appointment
Our Brands
Our name was inspired by the high fashion in Milano, Italy. And we want you to feel like you're walking down the runway every day.
Whether you're looking to wow the crowds with your new glasses, or you're looking for a timeless classic look, Milano Optics has you covered.
No matter what style you choose, you can receive 50% off our frames. And, update your prescription for free when you visit Milano Optics. Get started today.
See What People Are Saying